Inline Exhaust Fan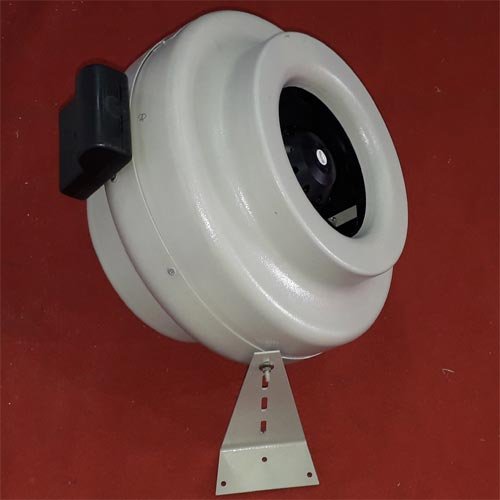 Being a customer centric company, we are one of the reputed Inline Fans supplier manufacturer and exporter company of India. Inline fan is also known as centrifugal duct fan, it is ideal air moving equipment used in residential, commercial and industrial applications. These fans are highly suitable for generating large volume air flow at low pressure. It is easy to install with its simple in line configuration where its efficient impeller is capable to generate significant pressure. It's quite performance and unique motor design makes it one of the versatile fan in the industry.
An Inline Exhaust Fan is a type of fan that is usually mounted inline used for extraction. This fan does not sit directly on the plasterboard or any ceiling. Instead, it is positioned inside the attic or the roof space. This inline exhaust fan works in the same way as that of a standard exhaust fan, but its design is different. The duct that is connected to the ceiling sucks air from below and into the fan. This fan then blows out the air to the other duct that connects to the roof vent. This helps in discharging the air from home.
Inline fans are better than axial fans and suitable for big bathrooms. They are great for significant ducting distances and where there is no access to the outside wall. They help boost the room airflow that increases the amount of warm and cold air that should be there in the room. The fans do not rest on the ceiling and are attached to the ductwork present inside the top.
They are widely used in various industries such as chemical, pharma, agro, plastic, textile, cooling and heating, laboratories, hospitals, food processing and many more. Our inline fans are made with spark resistant and heavy duty steel or cast aluminium which is ideal to operate in environment containing explosive vapours or fumes. We are true believer of product quality, hence we take each and every precaution to deliver perfect piece of inline fan which will satisfy customer expectation in true meaning. We source each and every piece of product part from reliable industrial vendor and produce superior quality of centrifugal fan in our modern manufacturing unit under strict supervision of expert professionals as per latest industrial standards.
Our offered inline fans are highly appreciated for its reliable performance, minimum maintenance, long life operation, low noise and less energy requirement. We have capability to satisfy growing demand of customer with our extra efficient inline fan. We offer range of inline fans various sizes, dimensions and in custom design as per customer requirement.
Features of Our Inline Fans
Easy installation
Low power requirement
Discounted price
Durable body
Quite operation
Compact body
High strength